Single-handle Shower Mixer Valve and Trim Kit Set

All-in-one shower valve, cartridge & trim kit – Choose round or square trim plate
Polaris Lux Brushed Gold

Add glamour and shine to a modern bathroom. New finish now available!
What Our Customers Say
The best part was using the shower. It is truly like having luxury hotel bathroom in my own house. Best shower ever.

Teresa Bubier on Polaris 1
Installation was simple and fast, service from the granastore was top notch, if I could give both my experience and the product 10 stars I would.

Joe Hauser on Polaris 1
I purchased a Polaris III and was extremely pleased with the high quality of the product but that was exceeded only by the incredible customer support

Henry Chernoff on Polaris 3
I love my new shower! Quality is absolutely amazing for the price. The design is beautiful and is very easy to use.

Mari Kummala on Aurea
Installation was much easier than plumber expected and the extension worked perfectly for my low ceiling. I almost spent three times as much on a Kohler.

Annie on Polaris 3
I have to say value wise, nothing came close to this unit. Quality is first rate.

Donald Gunn on Polaris 3
Installation was easy due to provided instructions with pictures and link to video on website.

Teresa Bubier on Polaris 1
Thank you again for your product and more importantly for the incredible customer service that is so lacking in today's world.

Henry Chernoff on Polaris 3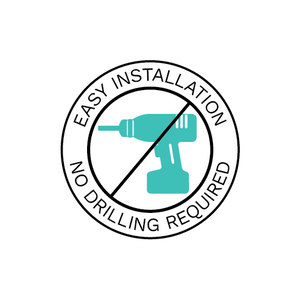 EASY INSTALLATION
A rain shower head with handheld combo that installs in 20-30 minutes without changes to your existing plumbing. No drilling required (optional screw mounting included). Upgrading your bathroom doesn't have to mean extensive renovation! See the installation video and manual from the link below.
Installation Instructions
HIGH QUALITY + AFFORDABLE PRICE
We believe everyone should have access to high-quality products. We implemented our experience from manufacturing faucets and showers in Finland and Europe to create stylish, long-lasting and functional showers for the USA.
Learn More About Fennocasa
CUSTOM OPTIONS
Different bathrooms require different shower heads. We designed our rain shower & handheld combo's to fit different setups, but you might have special needs. Check the available custom options.
See the options
How to Choose the Best Rain Shower System For You
All our shower sets are suitable for retrofit, remodel, and new builds. They connect to the standard NPT elbow connector in the wall just like a regular overhead shower head. The choice of model boils down to your preference in style and your current shower setup. You need to have enough headroom under the rain shower head.
If you're building or making a full remodel, you can build your plumbing according to the shower of your choice. Contact us if you need any help!
Fennocasa Retrofit Shower Systems
Polaris 1 Shower Set
• Dual showerhead designed to fit low ceilings, when the shower outlet is very close to the ceiling or when your shower outlet is high for proper headroom
• Modern minimalistic design
• 8-inch rainfall shower head with 3-setting handheld spray
Shop Polaris 1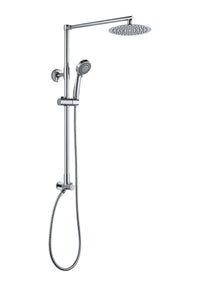 Polaris 3 Shower Set
• Like Polaris 1 but shower head height extendable with extension pipe: you can raise the rainfall shower head for more headroom
• Swivel shower arm: handy if the shower outlet is not in the middle of the wall
• 3-setting handheld shower
• Matte Black color available
Shop Polaris 3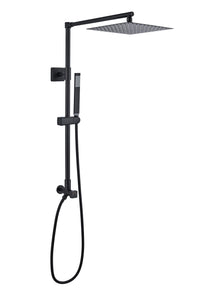 Polaris Lux Shower Set
• Similar setup & features to Polaris 3
• 10-inch square rain shower head
• Angular design and details
• Metal made single-function handheld wand
• Brushed gold finish available
Shop Polaris Lux